Resort Club
Tennis & Paddle
The Encosta Club resort has two hard court tennis courts which are located south of the swimming pool facility. The show tennis court has terraced seating for spectators and a beautiful, traditionally covered area to sit in the shade on those sunny days. The location of the tennis courts adjacent to the pool bar makes it ideal to request refreshments for both players and spectators.
Encosta Tennis Academy Partnership
The Encosta Club is located just 800m from the world class Campus sports facilities which also offer four acrylic tournament courts, as used at the USA Open, and two synthetic clay courts. The Campus has recently become a regular location for the Futures Professional Tennis Tour and often provides great sports events for families. The Encosta concierge team is happy to organise lessons with a raft of elite coaches to help beginners start their tennis journey through to advanced lessons for those more competitive guests. In summary, Encosta is a great location for tennis lovers throughout the year.
If you are a Tennis Club or Sports Travel management company, contact us for group rates.
Tennis Services Available:
Court Rental
Individual Tennis Lessons
Group Lessons
Reds & Greens – designed to introduce kids into the game and make it fun.
Weekly packages – these are very popular so early booking is recommended (call our concierge team for the rates).
Experience The Amazing Game of Padel during your stay in Resort
Discover the fantastic social game of padel during your stay at Encosta Club. The game of padel at amateur level is normally played as doubles which makes it great fun and it's easy to learn, especially if you book an few introductory lessons from the coaching team at The Campus which can be organised through the Encosta concierge desk. The Padel courts are only 800m from Encosta Club situated at the world class sports facilities of The Campus.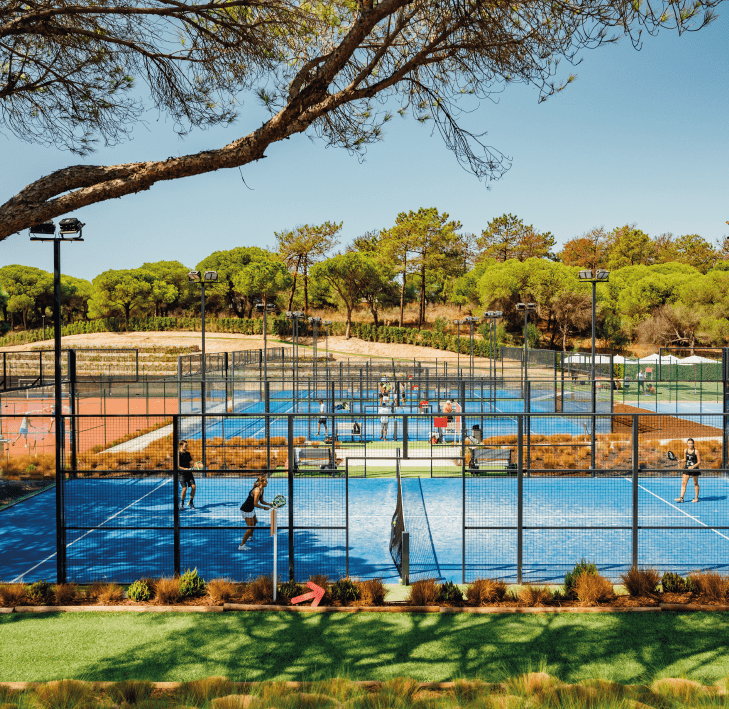 Give it a go and you will undoubtedly have fun
Padel for kids
Padel group lesson for two
Padel group lesson for three
Padel group lesson for four
Book a lesson through the Encosta concierge team.
When you stay at Encosta you are in the Heart of one of Europe's Best Resorts with World Class Facilities